I've been operating in two basic modes for the past few months: working like a madwoman at one of my two jobs, or collapsed in a heap. Last night I felt like doing
something
productive other than staring into my computer screen, so I went to IKEA and picked up a few $3.99
Signe
rugs to shamelessly copy the
Striped Rug Pillow
idea from a summer issue of Martha Stewart Living.
We've been trying to think of cheap ways to add a little rustic oomph to our lame, too-girly
bedroom
. (I really want to change the wall color to something more cabin-appropriate, but that's not a priority any time soon.) I really like the slubby texture of these rugs, and I was happy to discover that our IKEA had other color options than what was shown on the website.
I won't repeat the instructions since Martha covers them pretty well
here
, but I did modify things a bit by stitching both ends closed from the outside. (Martha says to sew 3 sides closed while it's inside out, then sew the 4th side from the outside.) I wanted the fringe to be visible on both ends instead of just one, and as long as you sew somewhat straight you don't really see the stitching if you pick the right color thread. I also needed 3 standard pillows to fill it (probably because I used the 99 cent IKEA kind) instead of the recommended 2. Overall, it was almost embarrassingly easy.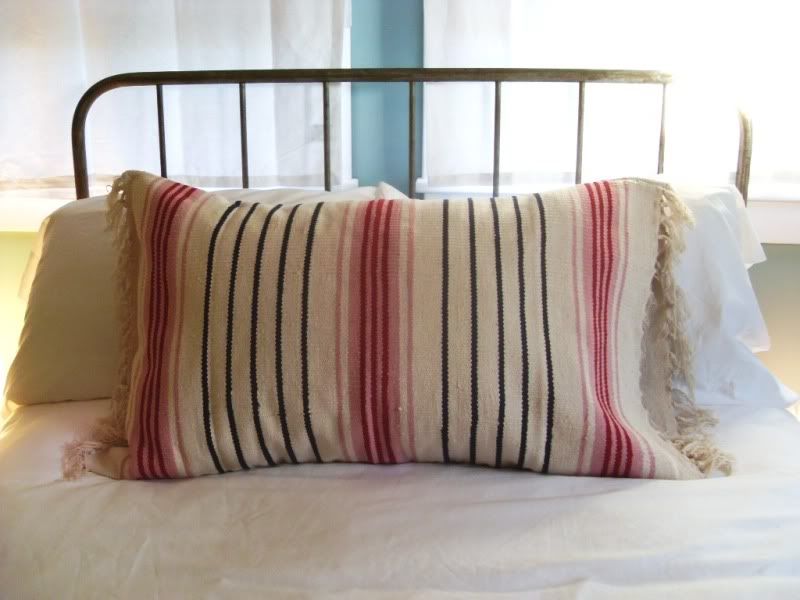 Word to the wise: hand stitching takes forever. I thought I could finish two pillows last night, but I only finished 3 sides of the first pillow before I gave in to sleep -- hence the still-gaping 4th side. And a note for perfectionists: the rugs are not woven exactly the same, so get used to the idea that the stripes won't line up 100% perfectly.
It's been awhile since I've made something with my own two hands, and it feels good. (Thanks Martha!) What are you guys making lately?